Seoul Bamdokebbi Night Market 2017 is opened already!!!!
The Seoul Bamdokkaebi Night Market is an event organized by the city of Seoul. Visitors to the night market, happening on weekends from 24th March to 29th October, can enjoy foods from around the world, shop for unique handmade accessories, and you can watch various cultural performances as well.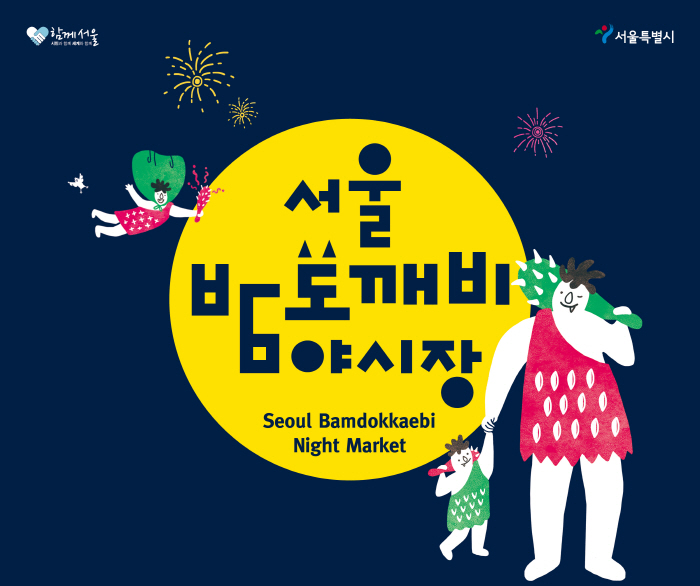 Source: VisitKorea
You can find there are 5 places to hold this event.5 markets have different themes and the event operation hours are different too. And this year, we can find at least 143 food trucks in 5 markets.
Source:Bamdokkebi Official Site
1. Yeoyido – World Night Market
Source:Instagram
The market located right next to Hangang river. You can sit on the grass then enjoy foods and drinks with friends. Also, you will find there are some music performances randomly.
Source: Instagram
 Yeoyido World Night Market
Location: Yeoyido Hangang Park (Yeoyi Naru Station, Exit 2)
Operation Time: Fri~Sat 18:00~23:00
–
2.DDP –  Youth Runway Market
Source: Instagram
It is a market of 'Dream', 'Design' and 'Play'. DDP(Dongdaemun Design Plaza) in Dongdaemun is the fashion center of Korea.   Fashion shows and event like Seoul Fashion week and even Chanel held a fashion show in DDP before.
Source: Instagram
DDP Youth Runway Market
Location: Dongdaemun DDP (Dongdaemun History Park Station, Exit 1,2)
Operation Time: Fri~Sat  19:00 ~ 24:00
–
3. Cheonggyecheon Time Slip Market  
Source: Instagram
The night market at Cheonggyecheon is more in "Korean style". They offer games for visitors to play, and they will give you a little gift when you wins those games.
Source:Naver blog
Source: Naver blog

Visitors can also write their wishes on a "Wish card" and make a wish with the traditional wish lanterns.
Cheonggyecheon Time Slip Market
Location: Cheonggyecheon (Jonggak Station, Exit 5 )
Operation Time: Sat~Sun 16:30~21:30
–
4. Banpo Romantic Moonlight Market
Just like the one in Yeoyido, the market is right next to the Hangang river, so that visitors can enjoy the night view of Hangang river. Also, you can watch the Banpo Bridge Rainbow Fountain show at night time.
Source: Instagram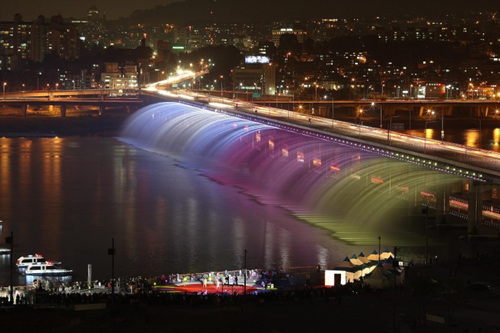 Source:Visit Korea
Banpo Romantic Moonlight Market
Location: Banpo Hangang Park (Express Bus Terminal Station, Exit 8-1, 2)
OperationTime: Fri~Sat 18:00~23:00
–
5. Cheonggye Plaza Season Market
The Seoul Bamdokebi Night Market in Cheonggye Plaza separated in 4 themes in four periods and they will have different events:
May 19・20・21일
Oh! 블링 마켓 (Oh! Bling Market)
Aug 18・19・20일
夏(하)! 블링 마켓 (Ha (Summer)! Bling Market)
Sep 15・16・17일
츄(秋)! 블링 마켓 (Chu (Autumn)! Bling Market)
Oct 13・14・15일
너! 블링 마켓 (You! Bling Market)
Cheonggye Plaza Season Market
Location: Seorin-dong Cheonggye Plaza (Gwanghuamun Station, Exit 5)
Operation Time: Fri~Sun 18:00~23:00
–
If you are interested in it and want to get more information, please check the official site: http://www.bamdokkaebi.org/
Hope you love this blog and enjoy everything in the market <3
*
No1 in Korea / Private apartment, guesthouse & Hanbok booking
https://www.mykoreatrip.com