Happy New Year! It's the time to plan your trips for this year! Do you have any plan or idea for traveling in Korea? When everyone is going to Seoul, do you want to go somewhere else and get some new experience in  Korea? Let's see where we can go and what we can do in other cities!
January – Gangneung(강릉)
It's the hottest place to go recently. Since the place Jumunjin(주문진) in Gangneung(강릉) is one of the filming location of the drama Goblin(도깨비), it makes everyone go there and take pictures! And the beautiful view of the sunrise is famous as well.
Source: tvN Dokebi official site
February  –  Yeosu(여수)
Let's go to Yeosu in February! Then you can join the Camellia Flower Festival!! If you like to take pictures with flowers, then it will be a good place to go during February.  Also, Yeosu is popular for its night sea view!!

Source: Instagram/ seojin_ee

Source: Instagram/miranda_y_
March – Jeju Island (제주도)
You can enjoy the beautiful view of yellow Rape flowers. During march, there will be a lot of Korean couples going to Jeju Island for taking outdoor wedding photos.

Source: Instagram/da___h
April – Jinhae(진해)
Jinhae is well-known for its Cherry Blossom view and Gunhang Festival(군항제).  While most of foreigners going to Nami Island or  staying in Seoul and searching for a good cherry blossom view, most of Korean used to go to Jinhae and have picnic with friends and lovers since Gunhang Festival is the biggest cherry blossom festival in Korea.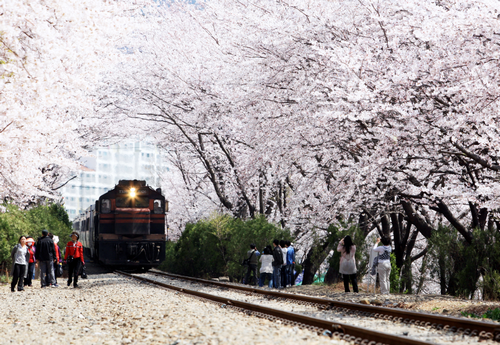 Source: Visit Korea
May – Gokseong(곡성)
Gokseong-gun, famous for the its train village, has been holding annual event of Gokseong Rose Festival at the Rose Park located within the train village complex. Rose varieties from different parts of the world under the three themes of love, scent and dream will be on display during the festival at 1004 Rose Park. Moreover, you can ride a rail bike with your family and friends too!
Source: Instagram/ hsunny__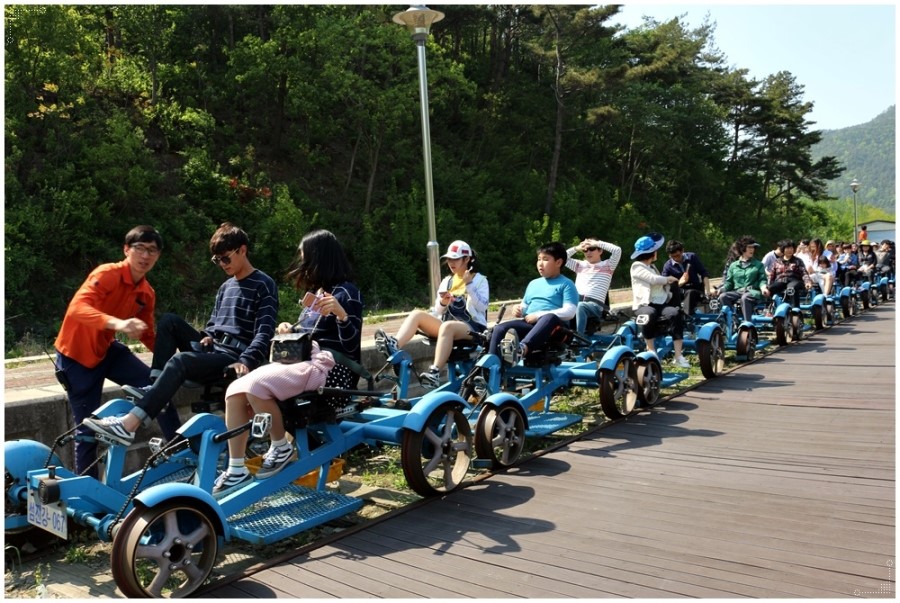 Source: Naver Blog/bonus02
June – Danyang (단양)
It is not too cold and not too hot on June. Maybe Danyang is the best place for tourist who like to experience new things or who love extreme sport because Danyang is famous for going paragliding!
Source : Instagram/ cholllllok
July – SamCheok(삼척)
July is the time that go to beach and swim! Janghohang Port(장호항) is just 25km from downtown Samcheok. It is a good place for swimming and snorkeling. The port is famous for its round beach line and white sand shore and is known as the "Naples of Korea."

Source: Instagram/ jihyeeeee__
August – Taebaek(태백)
Guwau Village (구와우마을) is host to the Taebaek Sunflower Festival, a celebration of the area's wide array of colorful wildflowers and endless fields of sunflowers which is the largest sunflower patch in Korea.
Source: Instagram/ bomnal97
September –  Gyeongju (경주)
The Cheomseongdae Observatory (첨성대) area is one of the main attractions of Gyeongju and it's one of my favorite places to see in Korea. It is full of burial mounds and happens to be one of my favorite places to see cosmos flowers in spring.
October – Hongcheon (홍천)
Hongcheon is the only place can see the most beautiful Ginkgo forest in Korea. However, Hongcheon ginkgo forest is a hidden gem because it is not open to the public except in the first 3 weeks of October (approx. period) when the ginkgo trees turn into a beautiful yellow color.
Source: Instagram/ di_kk
November – Suncheon (순천)
Suncheon Bay is a treasury of nature, comprised of both flat lands and reed fields. In particular, the scenery unfolding in the fall season is considered to be a MUST-SEE tourist attraction for both overseas and domestic tourists as countless migratory birds and golden waves of reeds filled the bay.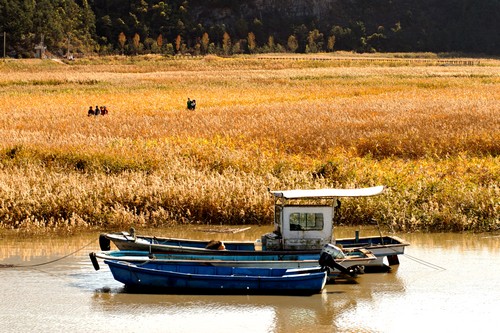 Source: Visit Korea
December – Icheon (이천)
It is the best to enjoy hot spring during the freezing season. Icheon Hot Springs(이천 온천 지구) is conveniently located close to Seoul and Gyeonggi-do. Its water is colorless, odorless, and tasteless . Going to Spa Plus (Hotel Miranda) or Icheon Termeden will be a good choice for tourists.
Source: Instagram/ __e_z
————–
No1 in Korea / Private apartment, guesthouse & Hanok booking
https://www.mykoreatrip.com/