Jamwon Hangang Park (한강시민공원 잠원지구(잠원한강공원))
Jamwon Hangang Park is located on the southern side of the river stretching from Yeongdong Bridge to Dongho, Hannam and Banpo Bridge. The total length is 5.4 km adjacent to Gangnam-gu and Seocho-gu where the hottest places in Gangnam area such as Apgujeong-dong, Sinsa-dong and Jamwon-dong are located.

The riverside area of the park has sports facilities including athletic tracks, soccer field, volleyball court, swimming pool, tennis court and a gym. Plus, there is a perfect bike land along the river side where you may enjoy the beautiful secenery of Hangang River while biking.
Moreover, there are natural experience field for silkworms, flowers and butterflies. In the summer, people often visit here to enjoy exciting summer water sports like swimming, windsurfing, motorboat riding and more.
Telephone
+82-2-3780-0531~3, 534-3263
Operating Hours
Open all year round
Parking Facilities
-735 parking spaces
* Operating hours
April-October: 09:00-23:00
November-March: 09:00-21:00

Available Facilities
Basketball fields (4), tennis fields (5), volleyball fields (2), soccer field (1), fishing site, swimming pool, snack bar, drinking water fountain, shaded rest area, natural learning center, Water Sports Agencies (motor boats, water skiing, wake boards, water sleds
Inquiries: +82-2-3780-0532 (Jamwon Hangang Park Information Center)
Hangang Park opened six outdoor swimming pools (including one at Yeouido Hangang Park). Supported by meticulous water quality management, they are not only safe, but also an inexpensive to private facilities. Excellent amenities offer swimming equipment rentals, food, and beverages.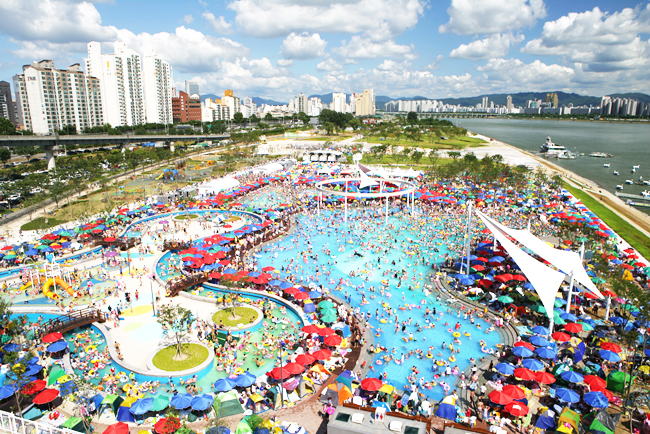 Swimming Pool
Opening period: July-August
Maximum capacity: up to 3,000 people
Inquiries: +82-2-536-8263
Water Sports (motorboat, water skiing, wakeboarding, watersled)
Inquiries: +82-2-3442-3313 (River City)
Yacht (yacht, rowing, canoe, windsurfing)
Inquiries: +82-2-3477-0333
Water Skiing
Inquiries: +82-2-541-8255, 8266

Bike Rental
Operating hours: 09:00 – sunset
Fare: 3,000 won per 1 hour / Couple bike (for 2 people): 6,000 won per 1 hour
Parking Fees
[Parking Fees]
1,000 won for the first 30 minutes
200 won for each additional 10 minutes
10,000 won for all day parking
Monthly parking pass available at 50,000 won
Baby Stroller Rentals
Not Available
Pets
Permitted
* Pets must be on a leash and clean up at all times.
Directions
[Subway]
Apgujeong Station (Seoul Subway Line 3), Exit 1
– Walk for 800m
Sinsa Station (Seoul Subway Line 3), Exit 5
– Walk for 1,000m
—–
No1 in Korea / Private apartment, guesthouse & Hanok booking
www.mykoreatrip.com