Want to go out of Seoul sometimes? Well, let's gooooooooo~~~~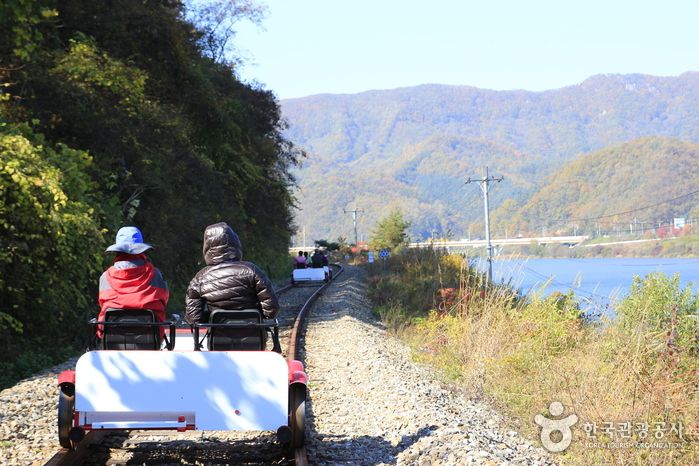 When the Gyeongchun Line, a double-tracked railway line connecting Seoul and Chuncheon, opened on December 20, 2010, it replaced the Mugunghwa train that traveled this route for 70 years. Built on the site where the train on the Gyeongchun Line stops, Gangchon Rail Park is a popular tourist attraction where visitors can pedal along old railroad tracks while taking in the lovely Bukhangang River scenery.
Opened on August, 2012, the rail park operates from three stations: Gimyujeong Station, Gangchon Station, and Gyeonggang Station. The distance between Gimyujeong Station and Gangchon Station is approximately 8km and the round-trip distance to Gyeonggang Station is approximately 6km.
Telephone
+82-33-245-1000~2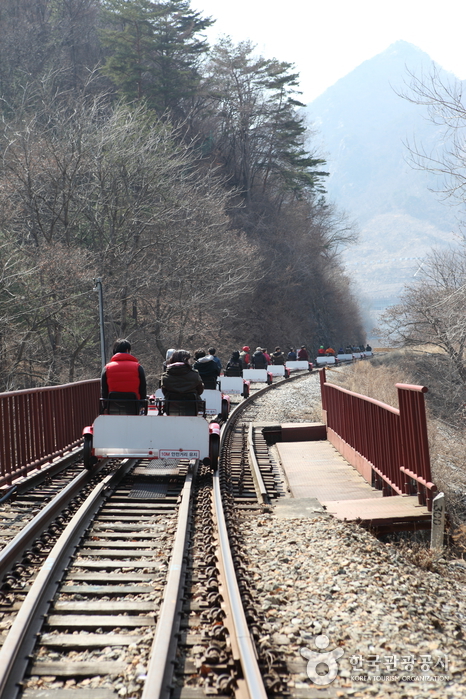 Tour Course Information
[Gimyujeong Station] Gimyujeong Station – Rest stop – Gangchon Station
[Gangchon Station] Gangchon Station – Rest stop – Kim Yu-jeong Station
[Gyeonggang Station] Gyeonggang Station – Gapyeong Railroad Bridge – Gyeonggang Station
Operating Hours
[Gimyujeong Station/Gangchon Station] Summer (Mar-Nov) 5 times / Winter (Dec-Feb) 4 times
[Gyeonggang Station] Summer season (Mar-Nov) 10 times / Winter (Dec-Feb) 8 times
Parking Facilities
Available
– Gimyujeong Station / Gyeonggang Station: Parking lot is located right in front of the station.
– Gangchon Station: The public parking lot is located within 10 minute by foot.
Facility Utilization Fees
Two-seater: 25,000 won
Four-seater: 35,000 won
Restrooms
Available
Parking Fees
Free for the first 3 hours
Reservation Info. for Natives
Online reservation
Directions
[Subway]
Gimyujeong Station (Gyeongchun Line), Exit 1.
4 minutes on foot
[Bus]
Take Bus 1 or 67 and get off at Gimyujeong Station
Address
1385, Gimyujeong-ro, Sindong-myeon, Chuncheon-si, Gangwon-do
강원도 춘천시 신동면 김유정로 1385 (신동면)
Link google map
Type
Tourist Resorts
Inquiries
• 1330 Travel Hotline: +82-2-1330 (Korean, English, Japanese, Chinese)
• For more info: +82-33-245-1000~2
Homepage
railpark.co.kr (Korean only)