South Korea is one of the most popular country to experience beautiful flower season, also known as the cherry blossom season around April every year. However, for those nature and flower loving travelers that are coming during off-season, there are many flower cafes that you could pay a visit to during summer, fall, and winter seasons as well.
Flower Cafe LOVIN' HER (러빈허)
Address: 1F, Sinchon-ro 6-gil 22, Mapo-gu, Seoul
Previously known as Florte Flower Cafe and has recently changed to LOVIN' HER (러빈허), this cafe  is situated in Hongdae. It is a unique and popular place among males and females of various age group, not to mention the rise in foreigner customers too. First of all, it is highly attractive due to flower and garden interior which is divided into two parts in the cafe where customers may find a seat of their own preferences to enjoy the stay.
Complementing its name, cakes and drinks are decorated with beautiful colors and flowers that are really pleasant and beautiful. Most interesting, even the ice cubes come in flower shape that floats in your drinks, like water lily in a lake. The cafe also provides flower crowns and bouquets for customers to beautify themselves and take pictures. Aside from that, they have been carrying out flower lessons from time to time.
Blute Gardening Cafe (블뤼테)
Address: Wawoosan-ro 14-gil 12, Mapo-gu, Seoul
This cafe that is situated in Sangsu presented itself by having various classy flowers and very fascinating interior. Not only living and blooming flowers, it is also filled with dried flowers as it's unique feature. Customers may choose to enjoy their time either indoor, inside the cafe or outdoor at the garden. This place is suitable for photographers and videographers as it provides a very beautiful and worthy scenery.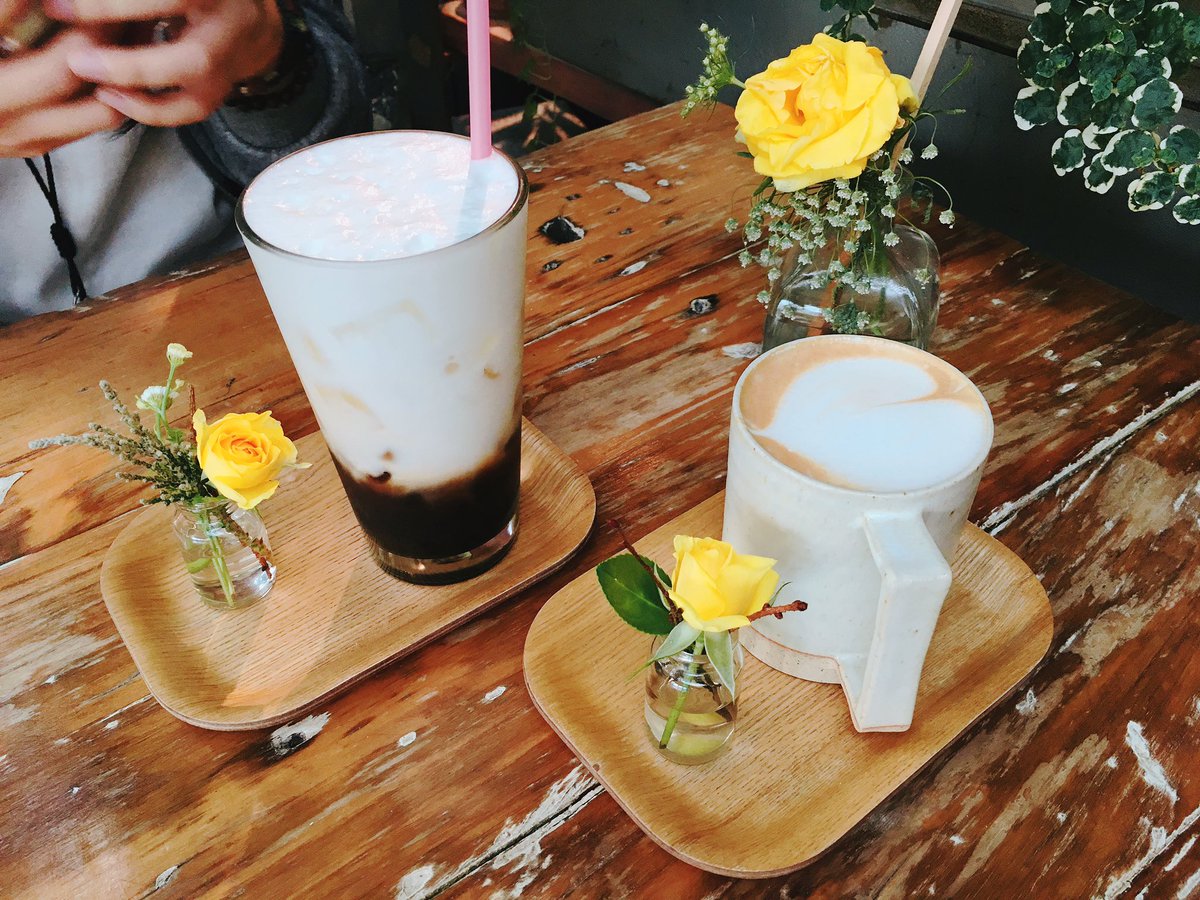 Aside from beautiful interiors and desserts, on the outside of cafe there is a separate building dedicated for movie gallery. It features posters of dramas and movies which have been filmed in this cafe. Visitors may walk down this memory lane while enjoying the beautiful decoration and pleasant flower aroma. Also, special from other cafes, Blute dedicates a section of cafe for florists to work on their flower arrangements. Customers that come may look at florists in action.
VER'S Garden (벌스가든)
Address: Dongyo-ro 41-gil 10, Mapo-gu, Seoul
This cafe is also situated in Hongdae, as close as a 10 minute walk from Exit 3 of Hongdae Station. This cafe is a good choice for couples to have romantic dates due to its calming and soothing ambiance complemented by beautiful flowers. The features of dry flowers hanging on the walls add up to the pleasant aroma radiating inside the cafe.
While enjoying the scenery, customers may order desserts and drinks that are decorated beautifully with colorful flowers and petals. Another popular point of this cafe is the availability of photozones where customers may take photos in the suggested spots.
*
No1 in Korea / Private apartment, guesthouse & Hanok booking
https://www.mykoreatrip.com/