Are you planning where should you go during this summer?
Just bring all of your friends to the water park. There are many water parks in Korea are popular around the world!! Let's check them out!!!
1. Gimhae Lotte Water Park (김해롯데워터파크)

The Lotte Group has opened the largest water park in Korea. The Gimhae Lotte Water Park is "Polynesian" themed and its styled surroundings and water rides are sure to leave visitors with lasting memories.

Source: Instagram
Equipped with an outdoor water pool, indoor wave pool, tornado slides and much more, the facility is the size of 17 soccer fields and aims to grow as a must-visit vacation spot in Busan. It separated into 3 parts, which are Outdoor Water Park, Indoor Water Park and Tiki Island Spa.
Source: Instagram

Gimhae Lotte Water Park (김해롯데워터파크)
Ad.: 555, Jangyu-ro, Gimhae-si, Gyeongsangnam-do
경상남도 김해시 장유로 555 (신문동)
Homepage: www.lottewaterpark.com
2. Caribbean Bay (캐리비안 베이)
Caribbean Bay is part of Everland theme park. Here, not only can you enjoy swimming and water amusement rides, but you can also relax in hot spring waters all year round. The water park has various facilities, such as the indoor and outdoor pools, a spa, a sauna, a wave pool, and slides like the Water Bobsleigh and Mega Storm. The water park is a favorite family destination.
[wpvideo HWQA7Zns]
Source: Instagram
Caribbean Bay Water Park has been designed with a Caribbean theme, and it is the largest water park in the world. One of the most popular attractions in the water park is the Wave Pool where you can experience strong waves similar to those of the Caribbean Sea. The park's cutting-edge computer system creates waves of up to 2.4m.
Source: Instagram
Caribbean Bay (캐리비안 베이)
Ad.: 199, Everland-ro, Pogok-eup, Cheoin-gu, Yongin-si, Gyeonggi-do
경기도 용인시 처인구 포곡읍 에버랜드로 199
Homepage:www.everland.com
3.Vivaldi Park Ocean World (비발디파크 오션월드)
Ocean World is located in Vivaldi Park Resort is designed to look like an oasis in the middle of the Egyptian desert, in order to give visitors the experience of a cool, refreshing swim under the bright sun. Ocean World even features a large Sphinx and pyramid, giving visitors a sense of Egypt's mysterious past.
Source: Instagram

Ocean World has many thrilling and exciting attractions. These include the 300 meter-long Extreme River, which has fast-flowing currents, Surfing Mount, where waves reach up to 2.4-meters, Family Raft Slide, Spa Village, and Angel's pool.
Source: Instagram
Ocean World is divided into various zones: Indoor Zone, Extreme Zone, and Dynamic Zone, which opened in May 2009. The new zone features the very popular Monster Blaster, Super Boomerango, and Giant Waterplex water slides. In addition to the water rides, there is a Jjimjilbang (a Korean-style sauna), a shopping mall, and restaurants.
Vivaldi Park Ocean World (비발디파크 오션월드)
Ad.: 262, Hanchigol-gil, Seo-myeon, Hongcheon-gun, Gangwon-do
강원도 홍천군 서면 한치골길 262 (서면)
Homepage: www.daemyungresort.com

4. Tedin Water Park & Spa (테딘 패밀리 워터파크)
Tedin Water Park & Spa, located in Cheonan, Chungcheongnam-do, is a great place to nourish and rejuvenate your body as it offers high-quality hot spring waters with such healthy minerals as calcium, potassium, magnesium, and carbonates. Moreover, the hot spring water is known to aid blood circulation and prevent geriatric diseases.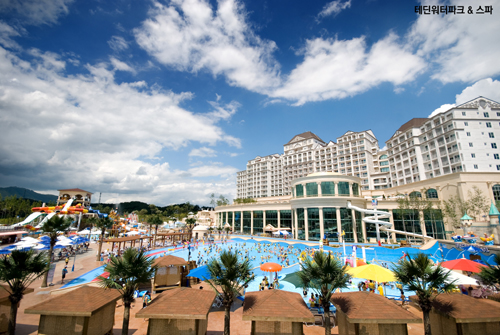 Source: Instagram
The resort has a pool, waterfalls, and whirlpools with massage jets that provide therapeutic relief while soothing sore muscles. The resort also offers several outdoor sitting pools in different themes including lemon, jasmine, and hinoki (wooden pool) allowing people to relax and enjoy the beautiful scenery.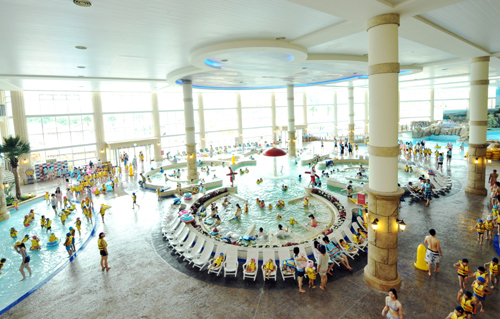 Source: Instagram
Tedin Water Park & Spa (테딘 패밀리 워터파크)
Ad.: 200, Jonghaphyuyangji-ro, Seongnam-myeon, Dongnam-gu, Cheonan-si, Chungcheongnam-do
충청남도 천안시 동남구 성남면 종합휴양지로 200 (성남면)
Homepage: huracle.com (Korean only)
5. Seorak Waterpia (설악 워터피아)
Located within Seorak Hanwha Resort, nestled at the foot of Seoraksan Mountain and before the deep blue ocean, Seorak Waterpia is one of Korea's largest theme parks. The wide variety of outdoor leisure activities and hot spring facilities use only pure mineral waters.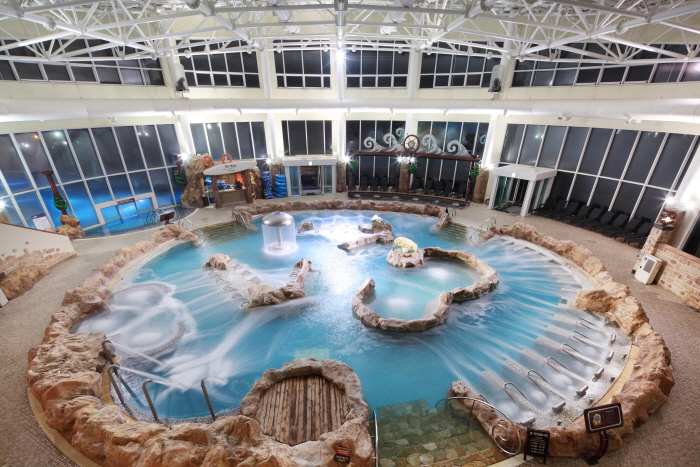 Source:Instagram
The major facilities include the hot spring sauna, waterplay area, and the outdoor restaurants. In particular, the outdoor sauna is quite popular for it's view of Seoraksan Mountain soaring above. The water throughout the park is kept at a toasty 49 degrees, making for a fun spa experience year round and fun for the whole family.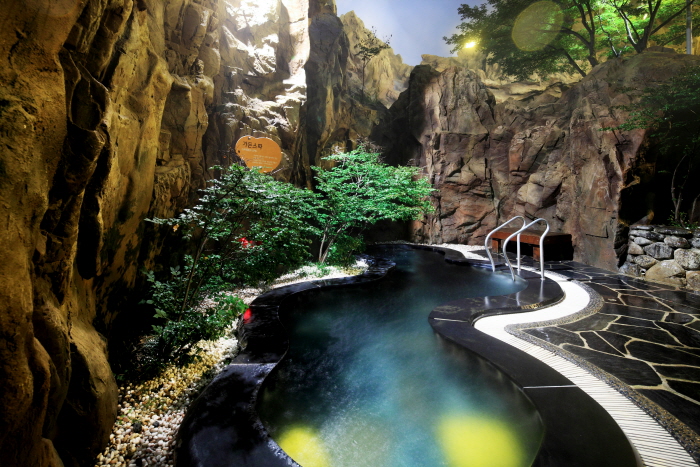 Source:Instagram
eorak Waterpia (설악 워터피아)
Ad.: 88, Misiryeong-ro 2983 beon-gil, Sokcho-si, Gangwon-do
강원도 속초시 미시령로2983번길 88 (장사동)
Homepage: hanwharesort.co.kr
*
No1 in Korea / Private apartment, guesthouse & Hanok booking
https://www.mykoreatrip.com