Beomeosa Temple (범어사)
Address
546, Cheongryong-dong, Geumjeong-gu, Busan-si
부산광역시 금정구 범어사로 250 (청룡동)
Type
Temples/ Religious Sites
Inquiries
• 1330 Travel Hotline: +82-2-1330 (English, Korean, Japanese, Chinese)
• For more info: Temple Office +82-51-508-3122, Temple Stay +82-51-508-5726 (Korean)
Homepage
www.beomeosa.co.kr (Korean, English)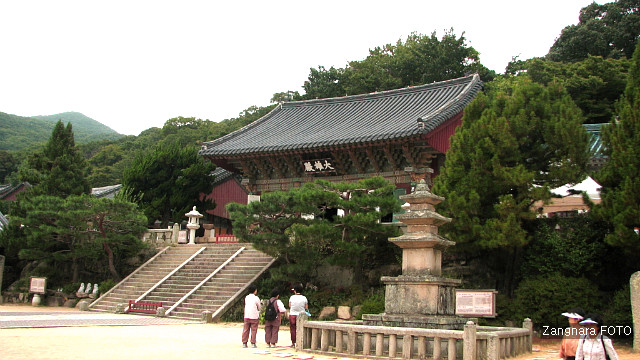 Beomeosa Temple is located at the edge of Mt. Geumjeongsan, a famous mountain in Busan. About 1,300 years ago it was constructed by monk Ui Sang in the 18th year (678) of King Munmu (reign 661~681) of the Silla Kingdom (the kingdom mainly occupied the Gyeongsang-do Province region in 678A.D.). In the geography book 'Donggukyeojiseungram' the origin of Beomeosa Temple is written as follows:
"There is a well on the top of Mt. Geumjeongsan and the water of that well is gold. The golden fish in the well rode the colorful clouds and came down from the sky. This is why the mountain is named Geumsaem (gold well) and the temple is named 'fish from heaven'."
The original Beomeosa Temple building was lost during Imjinwaeran Invasion (Japanese Invasion of Korea in 1592) but was renovated in 1713, which remains as it now is. Daeungjeon is one of the most delicate and luxurious architectures of the Joseon Dynasty (1392~1910). There is Iljumun, the three-story pagoda with four pillars, built in the 9th century, and seven royal palace wings, pavilions, three gates, and eleven hermitages. Designated as a natural monument, the wisteria woods and valleys are most beautiful in May.
Activity Information
Temple Stay
* Inquiry: +82-51-508-5726
Parking Facilities
Available
Facilities for the Handicapped
Restrooms
Interpretation Services Offered
English
Directions
[Subway + Bus]
Beomeosa Station (Busan Subway Line No.1), Exit 5 or 7.
– Walk along the main road (청룡예전로) for about 5-min and arrive at Beomeosa bus stop. Take Bus No. 90 and get off at Beomeosa Ticket Office bus stop.
Alternatively, take a taxi for about 5 minutes to arrive at Beomeosa Ticket Office.

—————————-
No1 in Korea / Private apartment, guesthouse & Hanok booking
https://www.mykoreatrip.com