Welcoming all with a warm invitation and sweeping across the world with inspiration for the last 12 years, the story of Nanta continues until everyone has tasted its delight!
Click >> HERE << to see a video clip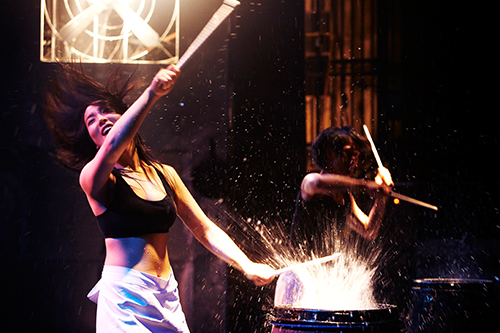 What is Nanta?
As the first non-verbal performance in Korea, Nanta is a comic sketch of things that happen in the kitchen, performed through Samulnori, Korean traditional percussion quartet melodies. It's a powerful performance for all ages and gender, melting the stress away with knives, cutting boards and kitchen utensils transforming into fabulous musical instruments.
Genre : Musicals
Dates : Jul 01, 2013 ~ Oct 31, 2015
Venue : Myeongdong Art Center
Age Group : 12 months and older
Running Time : 100minutes
Cast : Kwon Dae-hee
Prices :
VIP (Foreign Discount5%) 57,000 Won
S (Foreign Discount5%) 47,500 Won
Premium section (Foreign Discount5%) 66,500 Won
A (Foreign Discount5%) 38,000 Won
A (Visit Korea Festival 30%) 28,000 Won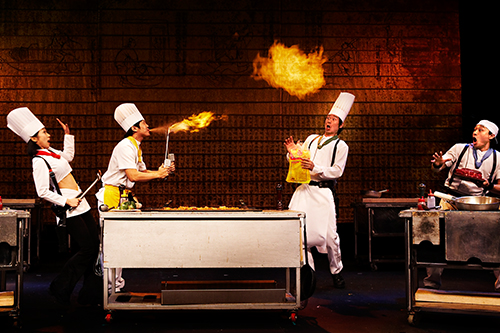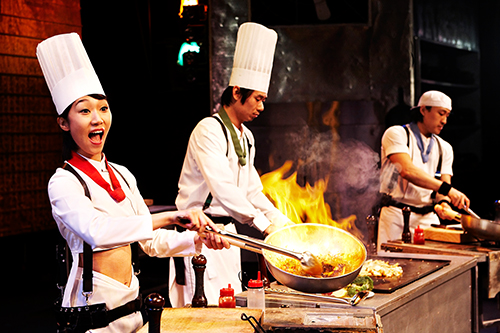 It received rave reviews at its premier in October 1997, and since then has raised an all-time highest number of audiences in the history of performances in Korea through continuous improvements. After gaining much popularity through performances in England, Germany, Austria, Italy, Japan, Taiwan, Singapore, the Netherlands, Australia and other countries world-wide, Nanta successfully established itself on New York's Broadway.
Performed throughout the year in its exclusive theater in Seoul, Nanta fixed a goal of performing for 10 years, a goal that is unprecedented in Korea. It has also been firmly placed in the tourist route as one of Top 10 things-to-do for foreign visitors to Korea.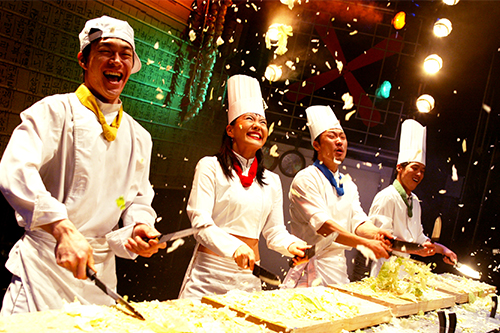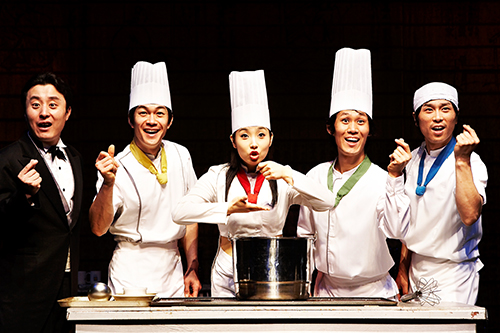 You won't be able to take your eyes off this cooking frenzy!
The stage, filled with comical errors, captivates the audience, already bent over double from laughter! There's only one hour left, and all dishes have to be prepared by 6 p.m.!
Facilities
Gallery, Mother & Child room on the 3rd fl (parents can watch an event with their children), make-up room, canteen
Direction
[Subway] 
Line No. 2, Euljiro 1(il)-ga Station Exit 5, 6
Line No. 4, Myeong-dong Station Exit 6
Address : 26, Myeongdong-gil, Jung-gu, Seoul
For map, please click here

Cell phone : +82-2-739-8288
Website : http://www.nanta.co.kr
————
Ticket cancellation policy
Deadline for a cancellation
Cancellation deadline: a day before the show of your ticket. ( 5 PM for weekdays/weekend/holidays, 11AM for Saturday)
ㆍTickets purchased after the deadline (5 PM of the day before the show of your ticket for weekdays, weekend and holidays or 11 AM for Saturday) cannot be cancelled, changed or refunded.
ㆍFor Saturdays, the deadline is 11AM.
Cancellation fees
1. There will be no cancellation fees charged for tickets cancelled on the day of purchase.
2. No cancellation fees will be charged for tickets canceled within 7 days after the purchase.
However, for tickets cancelled within 9 days after the purchase, please refer to the policy number 4.
3. For tickets cancelled 10 or more days before the shows, fixed rate will be charged for each ticket as a cancellation fees.
(fees will not exceed 10% of purchase price.)
* Tickets for musical, concert, classical music concert and dance performances: 4,000 Won ea.
* Tickets for theatrical play: 2,000 Won ea.
4. For tickets cancelled within 9 days before the shows, following cancellation fees will be applied.

– Within 7 days before the shows: 10% of purchase price.
– Within 3 days before the shows: 20% of purchase price.
– Within a day before the shows: 30% of purchase price.
• Service fees will not be refundable after the day of the purchase.
• A ticket cancellation will not be allowed after the online cancellation period ends. However, for tickets eligible for a cancellation on the day of the shows, the tickets can be cancelled with cancellation fees of 90% of the purchase price.
• Cancellation fees and policy may vary for certain items.
Information on refund
If a purchase is canceled after credit card is approved but before the order goes through, the purchase will be canceled, and deleted from the purchase history.
If a purchase is canceled after the order goes through and credit card transaction is completed, refund will take place on the following month, but if the transaction is not completed, the transaction will not take place at all.
It takes about 5 to 7 days for credit card companies to process refunds.
Source: http://www.kperformance.org/